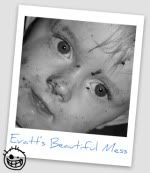 I was so excited to be asked by Lindsay to Guest Post for her today.
I went to college with Lindsay. I am grateful that despite our lives and their craziness we haven't lost touch, thanks to Facebook and now we've been blessed to get to know eachother a little better by being SAH Bloggy Mommies. :) I am truly blessed by her encouraging ministry stories, "

Beautiful Mommy Sentences

," how she shows His love to her children and her desire to passionately follow Christ!
I also love hearing her precious stories about her little ones who keep her on her toes!
She is also a wife, mom and nursing student. She is a precious wife to; Wes, and mother of Bella(5), Nate(2), and Marleigh(1), they all make up The Evatt's Beautiful Mess!
A Short Intro:
Does your life reflect the humility of Christ?
Christ came to earth for many reasons, but one was in order to show us how we ought to live
.
In
John 13:1-17
Christ does something culturally crazy. He takes on the role of a slave. A slave during that period was considered as "Less than human". He does this by washing His disciples feet.
Of all the things I would do for my friends to show them my love- That would probably not make it to the list.
In our day that's still considered pretty gross, but during Christ's time, feet were truly disgusting. I mean, if they were lucky enough to have shoes they wore sandals. Many went barefoot.
Come on, the thought of that weirds . me . slam . out!
Please join me as I humbly share the story of Christ washing His disciples feet and how badly it has convicted me over the past few weeks in
Loving With Humility
!
Linked With:
Women in the Word Wednesday