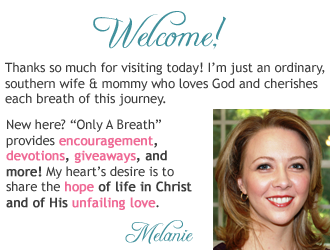 I am Melanie, just a simple, Christian wife and working mom of two sweet and funny boys. My husband calls me a "southern belle", and I love all things girlie, sparkly, and pink. I work as a software developer, but my heart's passion lies in writing. I blog at "Only A Breath" and pray to encourage others and share the hope of life in Christ and of His precious, unfailing love.
Thank you, Melissa for allowing me the honor of guest posting on your site! I pray that only God will be glorified by my humble attempts to weave words together to point to His beauty and grace.-----------------
My testimony is not one of drama, mayhem, or adventure. It doesn't read like a mystery novel or play out like a dramatic car chase in a movie.
In fact, at first glance you might think it is

boring.
But that's what I love about my God. He takes the ordinary, and breathes in His strength and power that enables these jars of clay to do great things for Him.
I accepted Christ as a child and, quite honestly, had very few bumps and bruises along the road of life. I have never been hungry, homeless, or deserted. I have been surrounded by love, family, and friends. His blessings to me have been abundant and undeserved.
.... which is why I often took them for granted.
A couple years ago, I went through one of the darkest times of my life. God knows the details, but they aren't entirely mine to openly share here. I will say, though, that I felt alone, helpless, unloved, unworthy, and hopeless.
A Christian without hope?
Sweet friend, I longed to share a different part of my story with you today, but felt overwhelmingly led by the Spirit to share this darkness. Perhaps one of you are facing the same?
Are you facing a mountain that seems far too great for you to climb? A health problem? A crumbling marriage? A rebellious child? Financial problems?
I have been with you are, and I know the overwhelming pain that may overshadow His light. In these times of grief, God still cares, and He wants you to know that you are not alone. During the dark period I went through, I would like to tell you that my first reaction was to fall on my face before God, and trust Him with all of my problems. After all, He had always provided for my every need. The Bible, which I have memorized and hidden in my heart, clearly speaks of His love for His people and of His constant provision.
But quite honestly, I doubted.
When you are down in despair, Satan will whisper into you ear that God has left you. He will tell you that God doesn't really care about your problems... that He never has. He will point out your flaws and feed you the lie that you aren't "enough". Not good enough, smart enough, pretty enough.... and that if you were enough, these problems wouldn't happen to you.
He has whispered in my ear... and I started to believe the lies.
Thankfully, my story doesn't end there. A dear friend spoke directly to my heart when she said "Do not lose hope. With God, there is always, always, always hope."
I want you to know that today, sweet friend. I don't know what you are going through, but I yearn to hold you close, look you straight in the eye, and tell you that there is always hope with God.
My story is one of regained hope.
You see, I never truly trusted Him until I had to. I never relied on Him fully because I thought I had everything under control. I never appreciated His presence until I felt completely alone. After my dark valley, God became real to me in ways I had never known. Familiar Bible verses took on new meanings, like salve to my heart wounds.
I can honestly say now (and I thought I would never, ever be able to say this).... that I am sincerely thankful for my time of darkness. After a rough, stormy night, the sunrise is so much more beautiful. The lessons He taught me in my desperation are those that cracked the shield of self-reliance and taught me to truly trust Him in all things.
Don't lose hope, sweet friend. He cares deeply for you. Even if you feel alone, or if you are facing a trial in your life, please don't lose hope. There is always, always, always hope with God.
.... and if you need prayer, please reach out and contact me. I would be honored to pray with and for you. Cling to Him only, cast your cares on Him. He does care deeply for you.