"Hold everything in your hands
lightly,
God pries your fingers open."
God often uses the messes in my life, and transforms them into a MESSage! I have to listen closely though, and search for joy in ALL circumstances! Easier said than done, right? I love it when the Master teaches me though! His lessons of life are challenging to say the least, but just like any class; the more you study, the more knowledge you have to apply to situations and watch it transform into wisdom!

Unlike any class, you get to have an intimate relationship with the teacher!
Which happens to make all the difference with these life lessons, because though He may go to great extents sometimes for you to learn, He wraps you in His arms during the process and promises to NEVER leave you!
Today I want to share one of those MESSages with you! It took me years to "learn my lesson", and though I will NEVER "arrive", I have learned to hold everything lightly!

I can now look back on the biggest mess of my life, and share my message of HOPE! I can say that I am THANKFUL for the lessons of life and the beauty found in the mess!
November is a month of
reflection and celebration for our family! It would have been the month of Noah's
birth. If Noah were here with us, we would be getting ready to celebrate his
3rd birthday. (By the way, if any of you beat me or Wesley to heaven and find
out that our "Noah" is a girl, please tell her that her Mommy liked
the name Norah as well, so she can just add an "r"!)
He is our second child, joining Nate as a middle child! Just five short weeks after conception, Noah joined the choir; heaven's choir! I'm very proud of him, always singing and praising, ETERNALLY! I'm sure his voice is amazing, like his daddy's (heavenly and earthly)! I was a little late on getting to the doctor to hear that sweet heartbeat, so by week 12 of my pregnancy, I was way too late! I can't go back and change a single thing, so I try not to dwell on the "what if's", but I was very distraught that day and in the months to
follow!
The pages of my journal in those days and months are filled with
bitterness, confusion, and weakened faith!
It pains me sometimes to even go back and read the words, yet I do because the hurt was real, and intense! I also like to have a real example of just how far God has brought me; how He has healed me. Many of you may know this similar pain; while others of you don't, and that's great! I don't wish this pain on anyone! No funeral for closure, or photographs to recall a sweet face. Just bad memories of a cold examining room and the ceiling I stared at as I tried to hold the river of tears from bursting out of my eyes! I couldn't even bring myself to look in the eyes of my amazing husband; we just sat in the room in silence when the news broke. The following days did nothing but aid in my bitterness; an absolutely horrible experience in the hospital during and after surgery, followup appointments, and a body that would rather hemorrhage to death, than heal. As if the emotional healing wasn't difficult enough, my body would not cooperate for physical healing! Markedly, some of the worst days of my life.
I.
Was.
A.
Mess.
I covered my emotions well, with a fake smile and empty words that would make everyone think I was okay!

I didn't know which was worse; staying away from people altogether, or immersing myself in crowds of people who just didn't have the right words of comfort for me! I had so much love and support, but sadly I didn't want to hear anybody's words. I felt as if they didn't understand AT ALL, so why even try to give me encouragement?
It's such a hard place to find yourself.
The following months were supposed to help me heal, but instead I found myself getting worse. My body finally healed a bit, but every time I saw a pregnant belly, it ripped the scab
from the emotional wounds within. It was only magnified when the pregnant bellies belonged to unwed mothers, uncaring mothers, and teen moms. I cringe to say it now; but I developed a hatred toward the unsuspecting people.
How was any of this fair?
We wanted another child.
I look back to these moments often in my life, just so I can really get a grasp on how far God has brought me and just how much I have healed. The culmination of events, people, jobs,
and God's calling/direction continue to help me heal, and turn my mess into something beautiful. It has taken time, but God has granted it! It has taken many people to pour wisdom into me, but God has ordained that my path cross with these wise folks(which are sometimes even my children!). It has taken further circumstances to stretch my faith and trust, but God has provided the opportunities. To put it simply; I have healed because I have allowed Jesus to still be my teacher!
ALL BECAUSE OF HIM!
I left it in His hands; His most-capable hands, and He hasn't forsaken me yet!
I never wanted to be the woman who wore my miscarriage as a badge of honor and drug it around with me like a ball and chain, using it as an excuse for everything in my life; nor did
I want to be the woman that forgot it ever happened, suppressed it, and just moved on. Sometimes finding middle ground is a good thing; and it has proved to be for me!
I can't explain a particular moment in time that signified my healing from this tragedy, it's just been slow and steady; and it started with me relinquishing control, and opening my hands before the Lord, that had previously been clinched tightly!
My wonderful husband was the first to help. He didn't just allow me the time to be emotionally crazy, he also joined in the crazy with me. We grieved together. I can't tell you how important that was to me. My children were next to aid in healing; all they had
to do was show up! Getting my last two here on this earth was scary after the miscarriage, but God allowed us this privilege. On my worst days, their round little faces help heal me!
Working our job at the Home for Children somehow brought healing as well. Taking care of the "unwanted" or "damaged" children, literally began giving me compassion once again for the people I had developed a hatred for. Compassion now overwhelms me for parents who can't, or don't want to care for their children. They too, are in need and in search for a higher power. Simply put, they need God just as much as the next person, and someone needs to reach out to them. A healing class offered at church, was my next hand extended for rescue.
In brief, a lot more of me needed to be "healed" than just my miscarriage issues. I surrendered EVERYTHING to Him, and found healing for every area of my life! It was ALL GOD! And now, God has called me in the direction to work with pregnant ladies!
WHAT???
Yep, you read correctly. God took all that hatred for these certain people and turned it into a very strong compassion for these ladies! I love seeing pregnant bellies now! That means there is life within! These pregnant women, whether battered or not, need love and the hope to be shown a better way of life for themselves and their little one(s) to come. Could it be that they need healing as well? Who are we kidding, this world is in need of healing, and there is only one answer; ALL GOD!
I look forward to my future in nursing, and helping life come into this world! And when there are those who aren't as fortunate, as in my case, I want to grieve with these parents. Each
day that I accept and claim this healing over my life, God gives me another glimpse of where he wants to take me with this new passion for Him and others!
Talk about a "beautiful mess"!
Without this life lesson, I
would seemingly have no direction!
I don't know God's logic behind leaving me on this earth and taking our sweet baby to
be with Him, however, I have come to the conclusion that
because I am still the
one with breath in my body, it should and WILL be used to bring glory to His
holy name!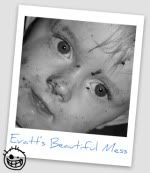 The word life in Hebrew, literally
means "to move forward"! Through all the messes of life, I still have life. Therefore, I must "move forward" proclaiming His name and His message! It just so happens that I can share the beautiful message of Him through the messes of MY life!
Instead of using my hands to attempt to hold everything so tightly, I can make the assumption that my hands could be used for serving a little better if I place everything in HIS most-capable hands!